Markets change fast! We experienced a substantial shift in 2022 with the first half of the year feeling like a completely different market than the second half of the year. A 3-point increase in interest rate was the main culprit along with inflation and affordability for the 2022 market correction we experienced.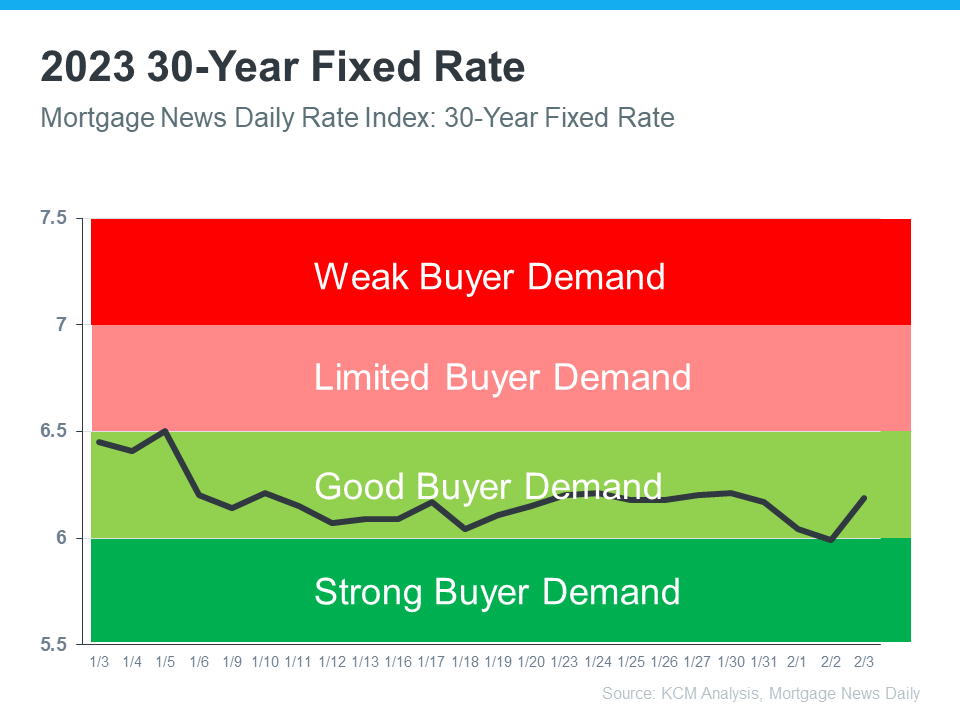 A market correction is defined by prices reverting by 10% or more. In January 2022 the median price in Snohomish County started at $700,000 then peaked at $830,000 in April, and ended the year at $689,000 (-17%). In King County, the median price started at $794,000 then peaked at $1,000,000 in May, and ended the year at $820,000 (-18%). Bear in mind that the December 2022 median price was also up 17% over the January 2021 median price in Snohomish County and up 12% in King County. This illustrates that the correction was only off the peak of spring 2022 not off of the strong equity that was built prior to that intense run-up.
As we find ourselves in mid-Q1 2023 all data points and anecdotal stories are pointing to the worst of the market correction being behind us and yet again, another shift. Interest rates peaked in November 2022 at just over 7% and have since come down. Experts are predicting rates to find themselves under 6% as we travel through the easing of inflation in 2023.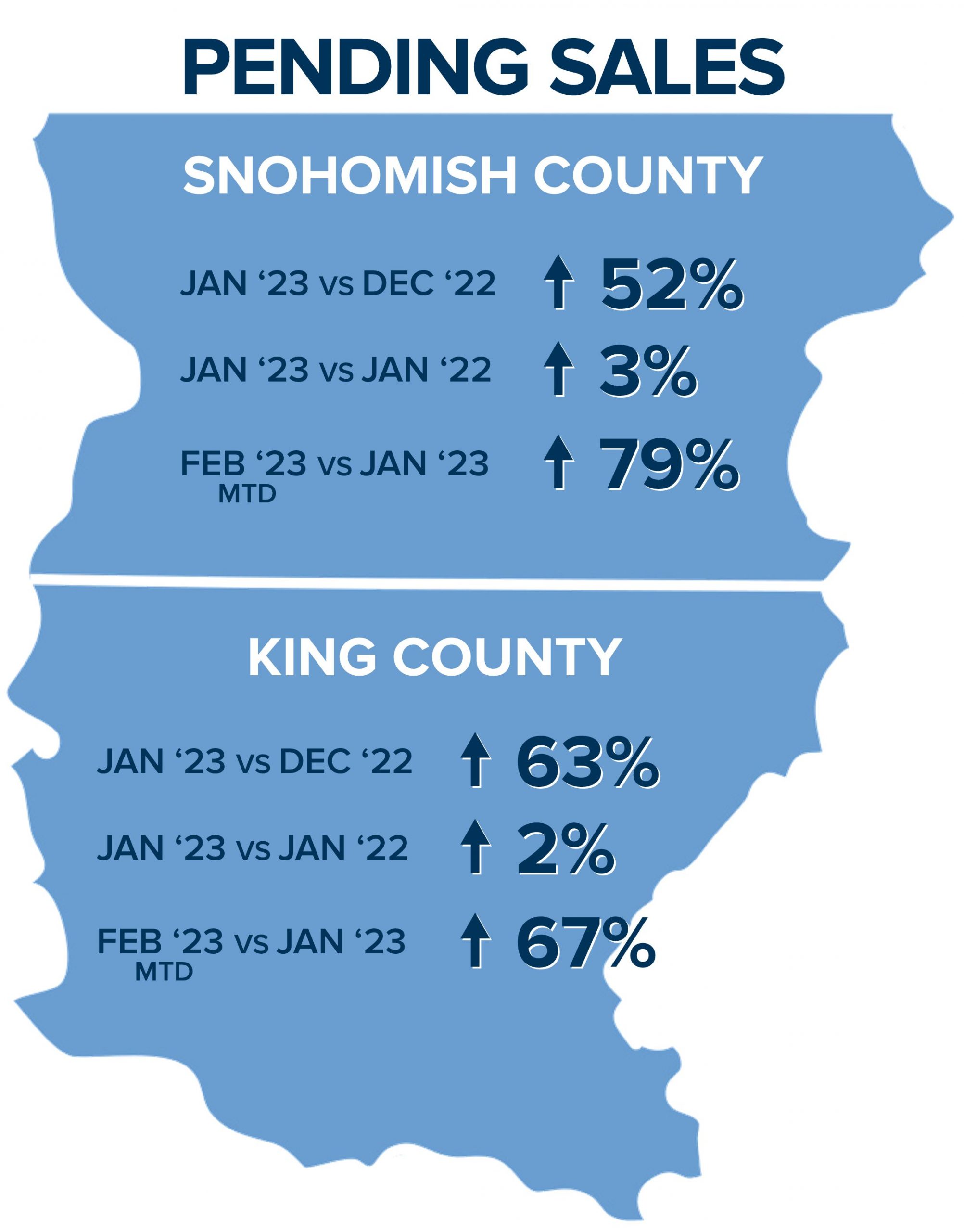 The well-defined price correction and interest rates lowering have brought many buyers back to the market. In fact, pending sales in Snohomish County in January 2023 were up 52% over December 2022 and were up 3% over January 2022. Even more so an indicator: pending sales are up 80% month-to-date (MTD) in February over January 2023! In King County, pending sales in January 2023 were up 63% over December 2022 and were up 2% over January 2022, and up 61% MTD over January 2023.
This pent-up demand has come at a time when listing inventory is seasonally scarce and has tilted the market from a balanced market back to a seller's market in many areas. Months of inventory is how we define market conditions. 0-2 months is a seller's market, 2-4 months a balanced market, and 4 months plus a buyer's market. In Snohomish County, we ended 2022 with 2.3 months of inventory based on pending sales, and in January 2023 had 1.2 months, and MTD is sitting at 0.9 months. In King County, we ended 2022 with 2.6 months of inventory based on pending sales, and in January 2023 had 1.3 months, and MTD is sitting at 1.1 months.
After months of price reductions and searching for the bottom, we are now starting to come across some multiple offers and price increases. This is leaving clues that the bottom was reached and that we are now stabilizing and looking toward the predicted growth that 2023 has to offer. Buyers are eager for additional selection and will welcome the spring influx of new listings. If sellers are ready, they should not hesitate. Should rates lower as the new listings arrive, sellers will be well supported by a willing buyer audience ready to absorb any growth in inventory.
Buyers need to understand that rates and prices are closely related and that waiting for rates to hit a certain point may be detrimental to securing a stabilized price. Many buyers are heading into today's market with a refinance in mind down the road. They are aware that prices will rise as rates lower, so they are looking to obtain a lower price now with a higher rate and once the rate hits their desired level, they will refinance to lower their payment all while holding on to their lower basis point.
For example, if a buyer bought now at $750,000 with 20% down and a rate of 6.5% their monthly principal and interest payment would be $3,792. If a year from now, rates are at 5.5% and prices are up 5% and that same buyer refinances, they will save $364 a month on their payment and $37,500 in principle. This would also be $192 lower than what the payment would be at the appreciated price with the lower rate!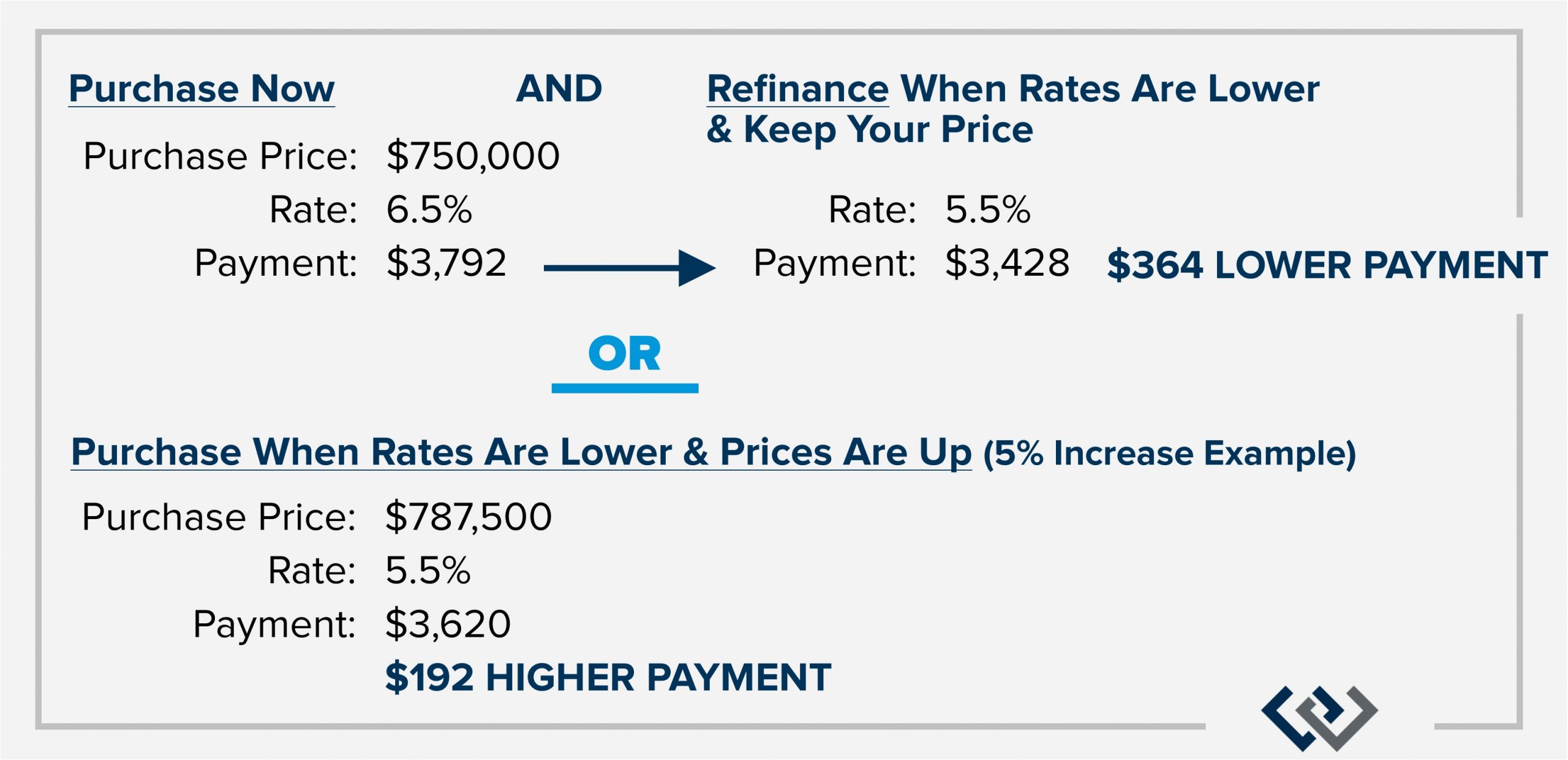 Real estate moves are driven by life changes. It was completely understandable that many buyers took a pause as the market corrected. Now that the market is showing signs of stabilizing these life changes are pushing buyers to find the home that better fits their lifestyle. Sellers need to keep in mind that their homes need to be priced right and show up to the market well-appointed and properly prepared to get the best results.
We've learned a lot over the last year. Once the historical 3-4% interest rate disappeared, consumers had to adapt to the new normal. Now that consumer sentiment is leaning towards a resurgence in demand, opportunity abounds for sellers who are ready to make a move. Please reach out if you are curious about the market trends and want to discuss your goals. It is always my goal to help keep my clients well-informed and empower strong decisions. 2023 is going to be a great year for real estate, I can feel it!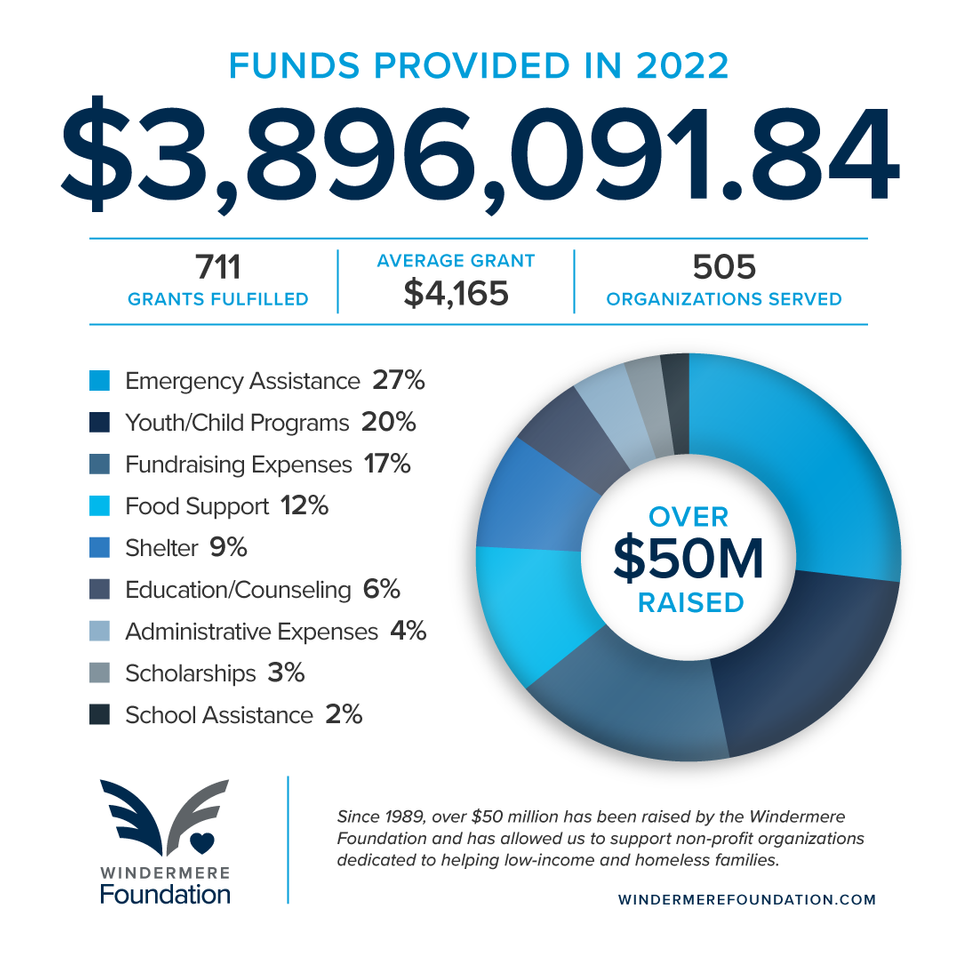 At Windermere we help people buy and sell homes, but we also help build community. I'm proud to support the Windermere Foundation which has raised over $50 million in the past 34 years for low-income and homeless families right here in our local community.